Tyre is one of the most important parts of cars, which is often used under complex and harsh conditions. Tyres are subjected to various deformations, loads, forces, and high and low temperature effects during driving, nowadays, more and more drivers are looking for tyres with better braking, lower noise, and lower fuel consumption. As one of the leading tyre wholesale suppliers, Autogreen can provide drivers with pure driving pleasure, more importantly, more safer driving condition. If you are looking for environment friendly and safe tyres, Autogreen tyres will be your best choice.
Outstanding sport performance, excellent driving and control experience.

Indicators of high performance tyre
The greater the resistance of friction, the more important it is in terms of braking force.

Choose an excellent tire to meet the driving experience.

Through the tire pattern will be water from its pattern exclusion, to ensure the vehicle running.

Semi hot melt tire, generally can improve the wear-resisting performance of the tire, reduce the tire wear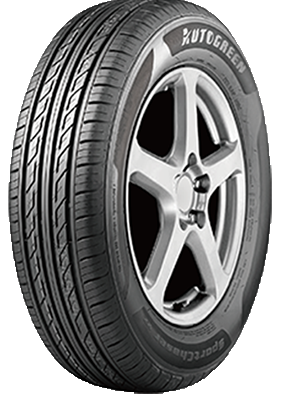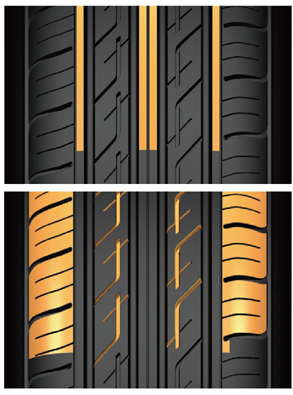 Designed to fit premium cars and sports cars.

Indicators of Ultra High Performance Tyre/UHP
Improved drainage performance to effectively reduce risk of hydroplaning

In general, tires with a flat ratio of less than 55 are called UHP, and any other radial tire can be called HP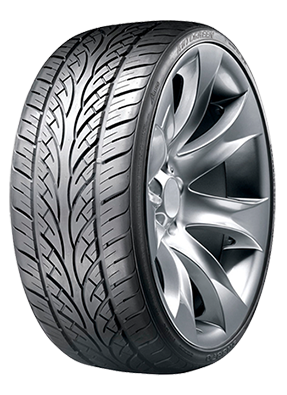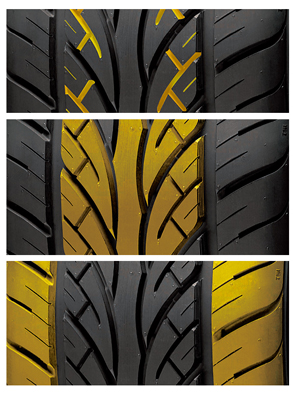 SUVs can be roughly divided into two categories: urban SUVs and off-road SUVs.The tyres used are als

Indicators of SUV/4X4 Tyre
Good Operation, Control and Braking Performance of sport SUV tires.

Excellent traction-High desity sipe cuts at 4x4 tyres and wheels ensure excellent traction on roads and general off-roads.

This quiet SUV tyres reduce road noise and provide comfortable, stable driving.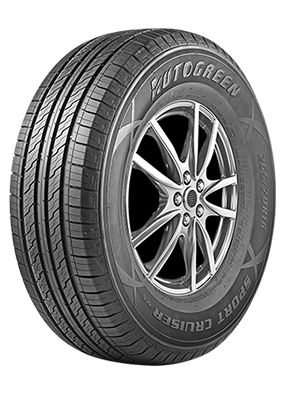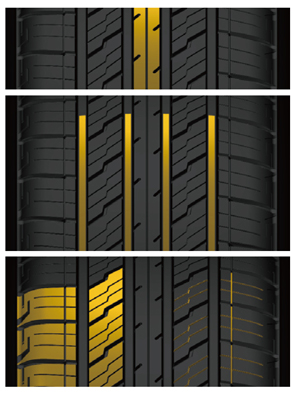 At (all-terrain) tires are cross-country tires that are suitable for All road conditions.

Indicators of All Terrain Tyre
Large angle grooves to improve self-cleaning abiliity.

An optimal balance between performance on road and off road.

Aggressive tread design expels water, snow slush and mud for optimum traction in all terrain conditions.
All Terrain Tyre Features and Applications
The design of all-terrain tires is more compatible than road tires. The design of tread pattern of all-terrain tires is rougher, and the spacing between tire teeth is slightly larger than that of road tires. The negative effect of this design is that its road performance is reduced and noise is increased. However, Durability and adhesion of all-terrain tires on non-paved roads are stronger than that of road tires, so all-terrain tire is a tire that combines off-road and road performance.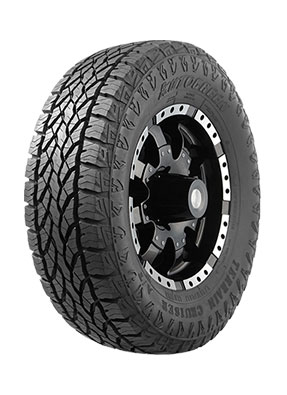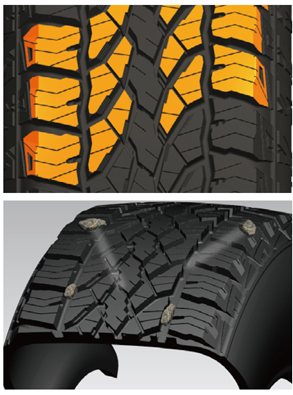 At (all-terrain) tyers are cross-country tyres that are suitable for All road conditions.

Indicators of Commercial Van Tyre
Low rolling resistance for high energy efficiency.

Commercial van tyre offers the ideal balance of safety and durability, delivers exceptional mileage and tread life.

These tires are thicker, harder and can carry more weight.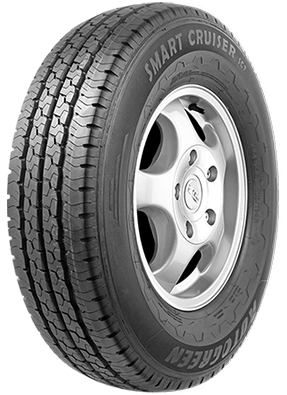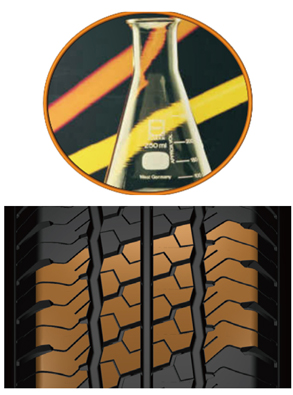 At (all-terrain) tyres are cross-country tyres that are suitable for All road conditions.

Indicators of Runflat Tyre
The unique structure of the sidewall provides the tyres to become heat resistance, in aims to minimize the risk to being blowout and is environmental friendly.

TEven under the condition of the zero pressure,the enhancing tire bead can ensure the safely match of the rim and tyre.

TThe special materials of the tyre bead can minimize the heat of the tyre.
Driving With Flat Tires Is Allowed

The biggest advantage of these run-flat tires is that it allows the driver to drive even if the tire is punctured. The driver does not have to stop and start looking for a replacement tire, as this tire will allow you to travel about 80 kilometers in the event of a puncture.

Better Stability

When a tire blows out, the car loses grip ability on the road, but the design of run-flat tires provides better stability than regular tires in such occasion.

Reduce Vehicle Weight

You don't need extra tools to change tires, which will reduce the weight of the vehicle. However, this won't make any difference as run-flat tires themselves are heavier than regular tires.
Run Flat Tyres VS Normal Tyres
The design of run-flat tires and regular tires is different. These tires are used in different car models, for example, BMW uses run-flat tires in most of their latest models. The main differences between run-flat tires and regular tires are as following:

1. Regular tires are cheaper than run-flat tires.
2. Run-flat tires are specially designed, allowing people to drive the car even in the event of a tire blowout, whereas conventional tires are fully deflated after a blowout.
3. Under normal conditions, regular tires provide a smoother driving experience than run-flat tires.
4. Cars with regular tires have spare tires, while cars with run-flat tires do not have spare tires
How Do Run Flat Tyres Work
Run-flat tires have specially rims designed to enhance the tyre's sidewalls. When the tyre is flat, or even completely depressurized, the tire won't come off the rim and keep its shape. The vehicle can run continuously at a speed of 80 km/h..

The foundation of a run-flat tire is a reinforced sidewall. Additional inserts made of rubber are provided on both inner walls of such tires. This kind of special rubber compound that is resistant to high temperatures keeps the tire in a stable condition even when the tyre breaks and is subjected to extremely high loads.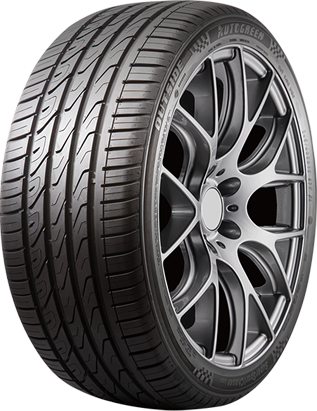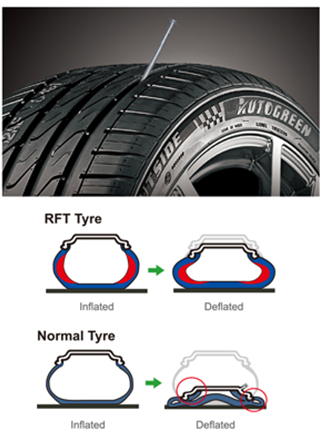 Tyres that can adapt to changes in climate and temperature all year round.

Indicators of All season Tyre
Excellent handing

Lower rolling resistance

All season tyre which is applicable to different weather and road conditions.
Difference Between All Season And All Terrain Tires
ETread Pattern

All-terrain tires generally have a more aggressive-looking tread pattern than regular all-season tires, and they also have deeper tread depths and larger sidewalls than those of typical all-season tires. Tread depth affects the grip performance of all-terrain tires in loose gravel or even deep snow.

All-season tires don't need aggressive or deep tread patterns. But their capability to adapt roads is enhanced, and the tire profile can be lowered considerably to enhance the overall appearance of the vehicle. All-season tires' shallower, straighter tread channels keep water and snowflake away from the center of traction, and their flatter contact patch,in normal conditions, provides greater road traction and adaptability.

Fuel Consumption

All-terrain tires have more rolling resistance than all-season tires. Vehicles with all-terrain tires generally require more fuel than vehicles with all-season tires.

Comfort

Since all-terrain tires have a more aggressive tread pattern than all-season tires, loud hum will be made that can be heard even from great distances. This leads to increased cabin noise, which can become very annoying and uncomfortable.

Service Life

All-terrain tires have the potential to wear out faster than all-season tires because they're not designed for normal road use, which can lead to more frequent tire changes.

Given that the tires are properly aligned and kept properly inflated, vehicles equipped with all-season tires generally require fewer tire changes during the period of ownership.
The first and most obvious benefit of all-season tires is their versatility in a variety of road conditions. All-season tires give you superior control ability and shorter rest periods on wet, dry or slick roads - giving you a great, well-rounded driving experience. The technology of all-season tire is the perfect blend of tyre performance for both summer and winter.

Service Life

A typical set of all-season tires can last for 50,000-70,000 miles or more.

Cost-effective

All-season tires are generally more affordable than summer or winter tires. Not only are the tires themselves more affordable, but they also offer better fuel efficiency -- saving the pump.

Use experience

All-season tires provide the quietest and most comfortable riding experience because of their consistent grooves, ribs and grooves that reduce noise and improve overall stability.

Safety

Although all-season tires are tires that can be used all year round, they are only suitable for certain areas. They can not be used in areas with extremely low temperature, snowy and frozen areas , because their performance in terms of grip, friction, etc. still cannot meet the need for special environment.
All Season Tyre Applications
All-season tires can be used at any season with uniform performance. All-season tires are quieter, having a lower coefficient of rolling friction, which means they will consume less fuel than other types of tires.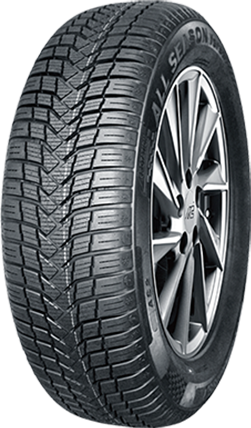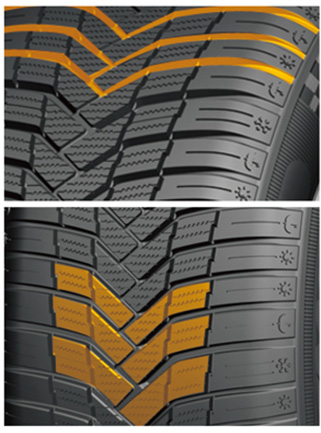 Outstanding grip performance, the brilliant driving and braking features are also guaranteed as well

Indicators of Winter Tyre
Snow tires have asymmetrical directional tread pattern. Snow tires have more grooves.

The silicon dioxide mixture rubber formula can contact more closely with the smooth ice surface.

Under low temperature conditions, snow tires will still maintain a soft texture.